NEW 2019: 2 unique experiences LAKE GARDA DOWNWIND and EXTREME LAKE GARDA DOWNWIND

LAKE GARDA DOWNWIND - 22 km - Torbole - Torri del Benaco
KiteSegnana will guide you from Torbole to Torri del Benaco for 22km in a straight line, about 35km travelled!
At the arrival refreshment and lunch before you return with the shuttle bus!

When: every Thursday morning from May, with the support boat and the KiteSegnana team

Cost € 55.00 per person including lunch and return to Torbole by shuttle bus.
Departure at 7.00 - Return at 12.30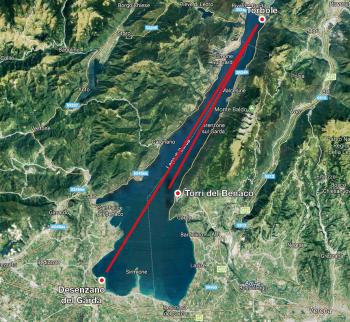 EXTREME LAKE GARDA DOWNWIND:50KM - Torbole - Desenzano
On call!

As soon as there are suitable north wind conditions, we will organize the best downwind experience!
The whole lake, from North to South, from Torbole to Desenzano, with your KITE! 50km in a straight line, around 75km travelled.

A unique experience, possible in only a few locations in the world!

What are you waiting for? Put yourself on the list and wait for the call! If you participate, the cost is 79.00 Euros per person!

When: on call
Register for free on our waiting list.